This page is dedicated to the health of your wonderful puppy. We believe the most important thing you can do for your growing puppy is give it a healthy balanced diet. I am sure everyone is doing everything they can to give their dog the best nutrition possible. Do you know what ingredients are in your pet's food? If you are buying canned or bagged dog food you may not be giving your pet the nutrition they need. Many dog food companies have put substandard ingredients in your pet's food in order to keep cost low. Many types of filler are put in the food that provide very little nutritional value. Chemicals are put in the food prolong shelf life but may hinder your dog's health.
So, what can you do to help your pet live a long, happy, healthy life? EVERYTHING. You are in fact the key to your dog's long healthy life. Hopefully you are giving them the nutrition they need.
Food
We at CMCockerPups feed an all-natural food to all our adult dogs and puppies. We know it is very important to start our puppies on a nutritious diet so they can grow strong and healthy. We keep our dogs on this all-natural food to keep them healthy and their coats beautiful. Have you noticed how shinny our dogs' coats are?
The food of choice for CM CockerPups is Life's Abundance Holistic. This pet food company carries a quality, natural, veterinarian formulated product line. This company is especially unique in that it has chosen not to sell its products in stores - instead it has set up a home delivery program and delivers right to customers' doors. This program offers convenience for pet parents, helps with busy schedules, and allows the company to promise that you will feed the freshest, safest pet foods available anywhere. Since products are not put on store shelves, this makes the products exclusive to people who take particularly good care of their beloved pet. Because of its wholesome ingredients and guarantee of freshness and safety, we strongly endorse this product line for the health and longevity of your Cocker.
As soon as I tried the food with some of my own puppies and mothers, they ate it with as much interest and excitement as they do delicious table scraps. So, we are delighted to now recommend this product line to you.
I want to mention that because of the caloric density in Life's Abundance and because the food is so digestible, it's really not expensive to feed your animal. The cost per day to feed a 20-pound dog is about 38 cents, and, for homes with a cat, a 12-pound cat is about 30 cents a day. There's a shipping cost of around $7.75 every month or two, depending on how often you order. You can include wholesome treats and care products in your order as well. There are safe cleaning products and even some products for you if you would like to do some shopping for yourself as well as your pet.
You can have a look at what Life's Abundance has to offer by clicking on the Life's Abundance logo below. If you have any questions, please contact me.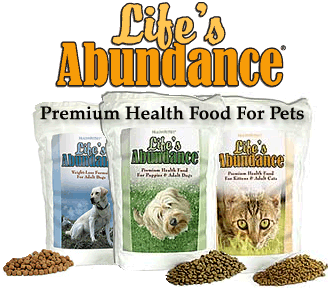 Vitamins
If you are feeding a healthy all-natural food then do you still need to feed a vitamin supplement? The answer: YES. Even though we are feeding an all-natural food we want to do everything possible to keep our dogs healthy. If you are not using vitamins for your pet you should be. A supplement gives your pet those extra vitamins and antioxidants they need to live a long healthy life. Vitamins will benefit a young active dog just as much as an old tired one.
In the human habitat there are many chemicals that are used every day in the modern household. Most of these chemicals are unhealthy for your puppy or dog. One example of many is a carpet deodorizer. The ingredients in it are not pet friendly and they are walking, rolling and inhaling those harmful chemicals. Those chemicals are absorbed through their skin and into their bloodstream. This is also true when they go outside to play and on walks. Many people use lawn chemicals and fertilizers that can hurt or hinder your pet's healthy life.
There are many different vitamins out there. Make sure you find one that has all the supplements your pet needs to give it the healthiest life possible. We use and have had wonderful success with a vitamin with NU VET LABS. We are so pleased with this company we give out samples to all our new puppy owners.
Click on the logo below to go to the NU Vet site to place on order. Please click on the testimonials to see how this product has helped hundreds of pets, many of them with ailing symptoms that prior treatment had been unsuccessful. This company has done research and has a wonderful product that helps your dog live the healthiest life possible. When you order you will need a sponsor id number. Number 92475 will enable you to make your order. This number helps the company keep track of what kennels are recommending them.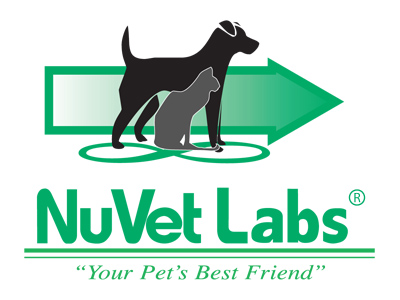 The bottom line is that your pet's health is everything, so please do everything you can to give them a long, healthy, happy life. Please take the extra time now to research what food they are eating and order this vitamin supplement. You will be rewarded in the long run with a loving pet that will be with you for the longest time possible.